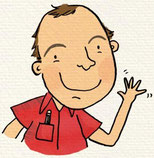 Hi everyone!
Tell me...
What do you like best about Danny Baker Record Breaker?
Who's your favourite character?
Have YOU ever attempted a World Record?
Are you a superhero? 
What superpower do you have?
                                What's your funniest joke?

Leave me a message - I'd love to hear from you!
But remember, kids, I can only answer your comments HERE on my Message Board, so please don't send me your email or home address!
What to do about Record-Breaking:
Don't forget, kids - the Danny Baker books are just stories! If you want to try to break a real world record, get in touch with the Guinness Book of Records first, and check with them before you start. They'll tell you what the record is, and what you need to do to beat it!